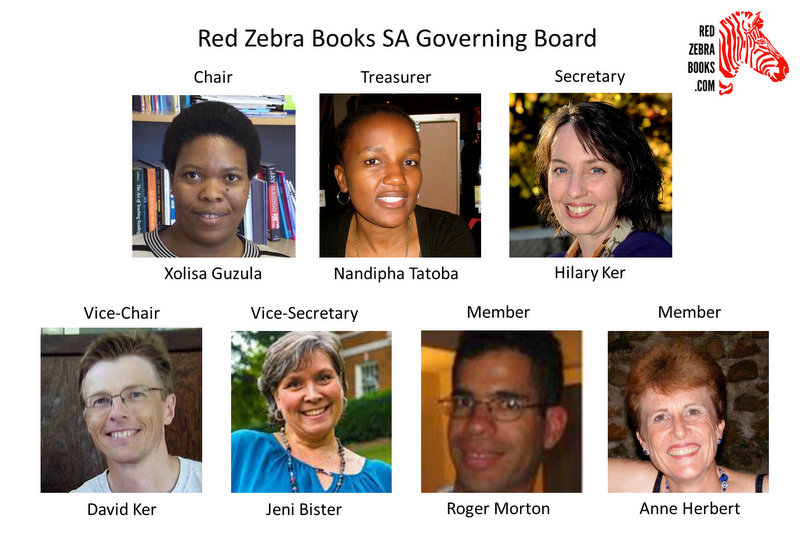 We're please to announce the new governing board of Little Zebra Books in South Africa. On August 22, 2014, Little Zebra Books was granted registry with the Department of Social Development in South Africa.
A big thank-you to each of these individuals who will be setting the direction of Little Zebra Books in the coming years.
The board members are:
Chair: Xolisa Guzula
Xolisa has wide experience with childhood literacy through her work with PRAESA, Nal'ibali, and the Nelson Mandela Institute for Education.
Vice-Chair: David Ker
David is co-founder of Little Zebra Books with many years of experience in Mozambique and South Africa.
Secretary: Hilary Ker
Hilary is co-founder of Little Zebra Books and has lived and worked for many years in Africa.
Vice-Secretary: Jeni Bister
Jeni has served for many years with SIL Mozambique in the area of literacy.
Treasurer: Nandipha Tatoba
Nandipha has served with YWAM, Beautiful Gate, and is founder of Phillipi Arts Academy.
Member: Roger Morton
Roger is founder of Visions Made Viable and has many years experience administering non-profits.
Member: Anne Herbert
Anne heads up the Education To Build A Nation project of Mercy Air and has many years experience as a teacher and literacy specialist.
Little Zebra Books SA Governing Board Named