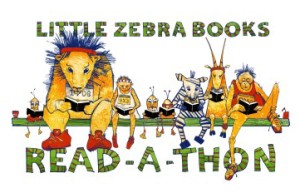 This page is for signing up to participate in the New Testament Read-A-Thon. If you would like to sponsor a reader, click here.
On April 27, 2015 we're going to be doing a world-wide read-a-thon in which participants try to read as many books of the New Testament as possible in a single day. The New Testament has 27 books. The shortest books are Philemon, Jude and 2 and 3 John which each have 1 chapter. The longest book of the New Testament is Acts. It has 28 chapters!
Our goal is to raise awareness and funds for Little Zebra Books, an awesome charity working in Africa to share beautiful books with kids. This fund-raiser is specifically for our series called The African Parables of Jesus. These books put the inspiring words of Jesus together with African-themed illustrations.
[CP_CALCULATED_FIELDS id="6″]
3. Download the printable booklet
Download the booklet as A4 or Letter-Size.
Print the two-page document double-sided.
Get sponsors and keep track of your progress!
4. Spread the word about this awesome read-a-thon!
Share this post on Facebook Twitter or email. Thank you!
Thank you!
Visit the Facebook event for the latest updates: New Testament Read-A-Thon on Facebook
New Testament Read-A-Thon